Too big, too small, fear of a contagious disease … Even if you stand shoulder to shoulder all day, still no on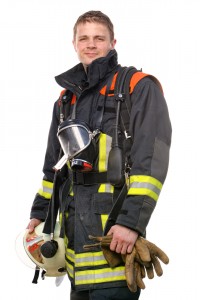 e likes to wear the uniform of a colleague. Just for this reason the use of distinctive garments was quickly accepted in work wear. Starting with barcodes, followed by RFID with low and high frequency.
But it became really interesting for the personnel department or warehouse manager of industrial companies when UHF RFID was launched in textile rental companies and industrial laundries. Stock control of pool garments is now a piece of cake and proper monitoring of the safety of protective clothing can really be guaranteed. It is also possible to check who is wearing any garment and how staff is handling it. At several large companies we have introduced a UHF garment dispensing system that reduces operational costs and investments related to work wear. See also the Walk'n Closet.
Our mobile solutions have already found their way into the oil and gas industry; in other industries we deliver custom made scanning technology. As many large companies already have extensive software packages, we can provide an interface to our RFID technology.
Industrial garments