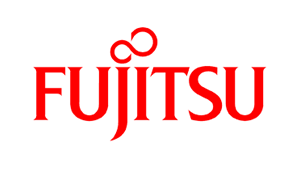 The fact that Fujitsu, the largest IT service provider of Japan and number three in the world, firmly believes in Textilligence, says enough. This giant chose us as the official distributor in the EMEA area for their UHF RFID tags for commercial and textile applications and we are very proud to fulfil this task!
As the Fujitsu tags are very efficient, they allow a container filled with hundreds of items to be read in only a few seconds with a reading distance of over three meters. The speed does not affect the accuracy and the margin of error is minimal. In other words, the count will be made up quickly and accurately. We do not need to tell you how many working hours can be saved. Blink twice and the investment in the tag is already almost returned.
Anyone who equips their linen and garments with UHF RFID tags can accurately track any item at any time. The Fujitsu tags are also very strong, withstanding the enormous pressure (60 bar) of the presses and high temperature of the ironers (over 200 deg) that are used in laundries production cycles over 200 times are no problem.
The tags are made of soft and flexible material, making them ideal for textile, linen and garment tracking. Also the tags are unique in containing no ferrous metal, making them suitable for hospitals where MRI's are in use. The Fujitsu UHF tags meet the "ISO / IEC 18000-6 Type C" standard.
Fujitsu has different tags for different solutions.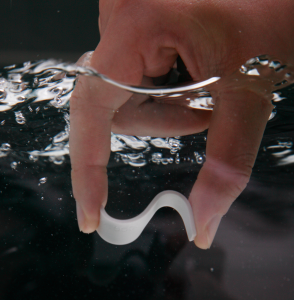 WT-A533
For industrial garment and linen applications, Fujitsu is announcing the new WT-A533 Linen tag for heavy-duty industrial laundry applications. The new Linen tag has an advanced mechanical design which gives it extra strength and reliability in heavy-duty industrial garment and flat linen applications.
Download specifications WT-A533
WT-A522 L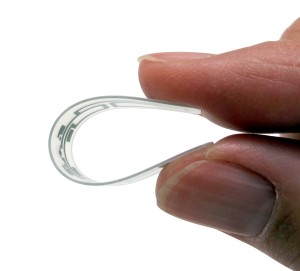 This new WT-A522L Fashion tag is made of transparent materials and is virtually invisible when sewn into clothing or accessories and is designed for permanent installation into fashion apparel, suits, formal wear, and jeans. Measuring only 55 mm x 10 mm x 0.3 mm, the WT-A522L tag can easily be sewn into hems, seams, or under manufacturers' labels and is home wash, dry-clean, and ironing safe.
WT-A522LA
Fujitsu will also offer the WT-A522LA with a strong adhesive for attachment to shoes, handbags, and accessories.
Download specifications WT-A522L/WT-A522LA
UHF RFID Tags