A new state-of-the-art garment dispensing system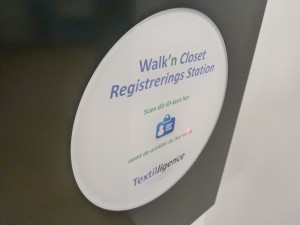 RFID technology is innovative and so is Textilligence. One of our latest UHF developments is the Walk'n Closet, a new concept in intelligent garment dispensing systems. Using state of the art UHF tracking technology with a surprisingly low initial investment compared to traditional garment dispensing systems, we can help you manage your wearers and your investment in garments.
Lots of customers already benefit from the advantages of running a pool of garments instead of individually allocated ones.  This system has many advantages but one big disadvantage, you do not know who used a garment and when.  The are many manual or expensive systems to provide this information but the Walk'n Closet does it automatically for you.  With the Walk'n Closet you get the best of both worlds, cost effective and reliable garment usage information with reduced garment investment.
Walk'n Closet is an unmanned, self-service garment kiosk where the employee walks into the room, picks what he needs and leaves.  Stock levels, wearers allocations and usage information is all automatically recorded and management information generated.
Perhaps it all sounds a bit like science fiction, but we have already installed several Walk'n Closet systems, including in a brand new, state of the art hospital in Denmark. The management of this hospital was looking for an alternative to a standard garment dispensing system with relatively low investment costs.
Please contact us if you also want the Walk'n Closet to be one of your most efficient employees; available24/7, little maintenance required and always ready to serve.
Walk'n Closet